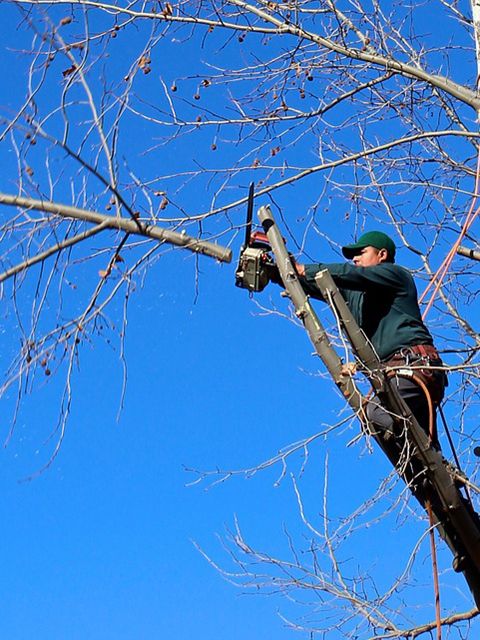 Tree Trimming is a regular part of your property's maintenance but most homeowners don't have the proper equipment to get the job done. Generally the reasons for trimming your trees are: aesthetics, safety or health.  Because a tree is such a valuable asset for your property, it is important to maintain its health.  
Tree Trimming is both an art and a science, it creates a healthier, stronger tree and helps provide strength during violent storms along with providing a face lift for the tree. Trimming trees is a specialty here at David's Professional Tree Service. We know trees can cause more problems than people realize. It isn't just a tree looking unsightly, it's about having healthy trees. Improper trimming can actually shorten the life of a tree and create a hazard. Proper trimming requires more than just starting up a chainsaw. 
Trees can be hazards to your home, family and automobiles. Unhealthy tree limbs and branches can fall off at any time causing thousands of dollars in damage to property by crowding windows, scratching siding or becoming tangled up in power lines, phone wires and utility lines. Also a tree should be trimmed if it impedes your vision while driving. To bring experience and knowledge in tree trimming to your home or business call David's Professional Tree Services. We've worked with all species of trees. Our tree care experts will get the job done and leave your property looking better than ever. Call us today, you won't be disappointed!